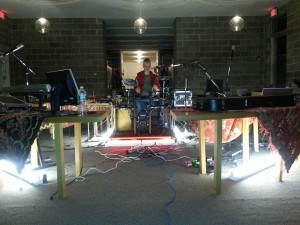 First day at Watermill.
After loading the cars to the brim at 9 in the morning we made the 2 and a half hour dive from the city to South Hampton. Arriving at the huge modern complex was quite exciting. I've never been here before but I instantly recognized the astral alignments of the architecture with nature. The stone structure connecting the two halves of the main complex reminded me of the Isis Temple I visited on my 2010 trip to Egypt including the day moon hovering directly above the entrance. (Later in the evening the same alignment was revealed but this time with Venus included!) Introductions with the staff were made over a much appreciated expertly cooked lunch. After the meal were were given a complete tour of the entire center, (including Bob's apartment! ;p). Every floor, corner and nook is graced with either original or indigenous art and various props and structures from past Wilson shows. We are actually allowed to incorporate the artworks into our piece if we so choose. (I have my midi controllers on the tables from Einstein on the Beach and the headphones and amps are on the tables from Hamletmachine!!! What!!!) After the tour we got down to the business of loading our gear and setting it up. It's hard to convey how much friggin' gear is in this show!!, but we managed to get most of it up.
As the night progressed I was the last man standing. When I felt confident enough that everything was gonna be fine and everything would work ok, I was too excited to sleep, so I set up some gear in a huge empty galley and recorded some amazing sounds into the night!!!!
Stay tuned for more Temporary Distortion at Watermill.